Pollen Forecast
5 Day pollen forecast updated daily
Today
Tomorrow
Monday
Tuesday
Wednesday

Get your free Pollen forecast app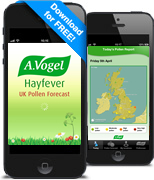 This free A.Vogel app for iPhone and Android gives you daily information on the latest pollen in the air during the hayfever season.
The pollen forecast can be viewed using your GPS location or you can choose from around 350 different locations in the UK.
We show pollen forecasts for tree, grass and weed pollen.
In "My location" you can determine which locations you wish to continue viewing the forecast for.
The app also includes the option to find your nearest stockist of Pollinosan, the A.Vogel solution for hayfever. Just press and call your local store. Download the app!

Leave your feedback
I would love to hear what you thought of the information you have read on this page. Just leave your comment below.