How can we help you?
---

It's the itchy eyes and running nose season again!
Make sure you're ready by signing up to receive daily UK pollen updates straight to your inbox every morning and find out what the pollen levels are for your area.

---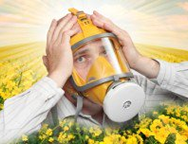 Are you dreading another season of itchy eyes and runny noses? Well, you're not alone. In a recent poll of over 1,000 hayfever suffers, just over half of the respondents told us they feel bogged down and not their normal selves during the hayfever period.
Hayfever symptoms are not only annoying, irritating and downright frustrating but they can also be very disruptive, interrupting our daily lives in more ways than we may realise.