How can we help you?
---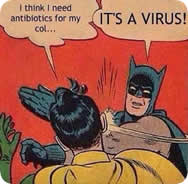 This is the message of a recently launched NHS health campaign. And, it also applies to those suffering from the flu.

Why is this so? What is the problem with using antibiotics for your cold or flu? Surely, if you are feeling really unwell, they will help?

Well, the short answer is no. The reasons are simple:
1. Colds and flu are viral infections and
2. Antibiotics only kill bacteria, not viruses.
---
Over a series of 4 blogs, I'm going to try and explain the process by which pain develops, dietary strategies to control it, the effects of exercise and home remedies and the influence of mood on our pain perception.

As always, each blog will try to keep to a digestible chunk, so if you have more detail or a personal experience to add to the conversation, please go ahead and post a comment.