Bioforce (UK) Ltd Environmental Policy Statement


We recognise our customer's expectation that we carry out our business in an environmentally responsible manner. As our activities and operations can impact on the environment either directly or indirectly our aim is to minimise our impact through:

Improving internal efficiency.
Minimising production of process waste.
Minimising our use of natural resources.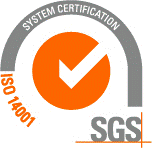 It is the policy of Bioforce (UK) Ltd to implement and maintain an effective environmental management system that meets the requirements of ISO14001 by:
Identifying and complying with all applicable legal requirements.
Identifying and implementing initiatives that will continually improve the company's environmental performance.
Using processes, materials and other operational controls to avoid, reduce and control the creation and emission of potential pollutants and waste.
Making efficient use of resources, materials and energy.
Involving staff in the improvement process and making them aware of their environmental contribution and responsibilities within the EMS.
Promoting environmental principles throughout our supply chain.
Maintaining open communication links within the company, its customers and the general public with regard to environmental issues concerning our operations.
Providing a framework for setting and reviewing targets.

This policy is fully endorsed by the Directors who shall ensure it is communicated to and understood by all employees. This policy is reviewed at least annually to ensure it remains relevant to the business needs and objectives.