Back pain symptoms
Back pain symptoms most commonly manifest themselves in the lower back but may also affect other parts of the spine.
Back pain is a commonplace ailment and most people are familiar with symptoms such as stiffness or aching. However, it is important to be able to recognise when your symptoms are serious, such as if you find yourself suffering from a fever or numbness in your limbs. In this page, our muscle and joint expert Earle Logan talks about the symptoms of back pain, how they can be treated using herbal remedies and when you should consult your doctor.
An introduction to the symptoms of back pain
Back pain is a very common problem and many people will experience it at some point during their lives. Most often, it is not a problem that should worry you as it is rarely an indication of an underlying serious health issue.
People with back pain most often complain of symptoms such as an ache, stiffness or even cramping pain in the lower part of the back. However, these pains can also occur in the upper part of the back  or in the neck and shoulders. In many cases, symptoms improve within a few days or weeks without the need for medical help.
How long do the symptoms last?
This can vary considerably. Depending on how long symptoms last, back pain can be categorised as 'acute' or 'chronic'.
acute back pain – lasts for less then six weeks
sub-acute back pain – lasts between six weeks and three months
chronic back pain – lasts longer than three months
When are back pain symptoms serious?
Occasionally, back pain can be associated with symptoms such as:
fever
swelling and heat in the back
pain in the legs and knee
incontinence
numbness of the limbs
unexplained weight loss
pain that is worse at night
If any of these so called 'red flag symptoms' occur, your GP must be contacted immediately as they may be indicating a more serious underlying problem to the pain.
How should I treat my symptoms?
The cause of your back pain and the type of your symptoms will determine the most effective treatment for you. It is often worth visiting your doctor to check for any underlying health problems, or to see if medical intervention will expedite your recovery.
There are certain back pain exercises which will improve the strength and flexibility of your back, and also the rest of your body. This should help ease your current symptoms and also prevent episodes of back pain from recurring.
There is also a range of treatments such as osteopathy and acupuncture which are effective in improving back pain symptoms. These can be used alongside herbal remedies such as Arnica gel, for a specific area of pain or Devil's claw for joint pain.
Worst foods for your muscle pain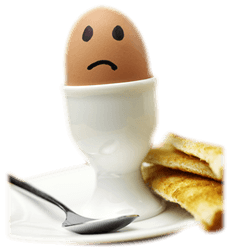 Some foods can increase inflammation and discomfort, whilst others can actually reduce it and relieve pain. Discover which foods you should eat fewer of (some might surprise you) and what you should eat more of instead, when suffering from muscle & joint pain.

Leave your feedback

I would love to hear what you thought of the information you have read on this page. Just leave your comment below, thanks Earle