Bruschetta with fresh sprouts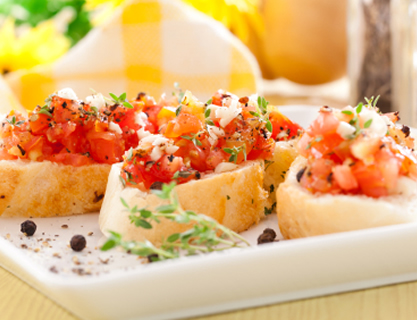 Preparation:
Let germinate 3 tablespoons strong aromatic blend bioSnacky ® for 3-5 days.
Put 10 baguette slices of bread on a cookie sheet. Pour a few drops of olive oil on to each slice and put it in the oven at 200 ° C for 10 minutes until the slices are crisp.
Meanwhile, wash, seed and dice 3 tomatoes. Press 1 clove of garlic and mix it with 3 tablespoons of olive oil, diced tomatoes and fresh shoots.
Season the stuffing with Herbamare ® Spicy and chopped basil. Spread the stuffing over the slices and serve immediately while still hot.
Preparation time
15 minutes
print