Herbed Chicken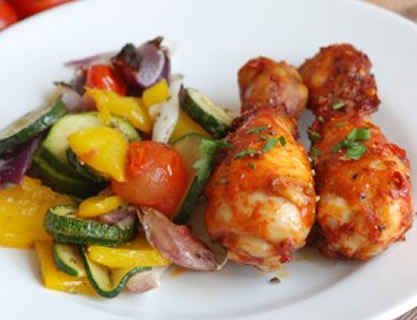 Preparation:
Cut chicken into 8 pieces. Melt the butter. Add herbs, paprika and Herbamare® Spicy.
Coat chicken pieces with this mixture and marinate for 30 minutes. Cook on the barbecue or in the oven at 180 ° C (oven ajar) 30 to 40 minutes. When ready pieces will be crisp and golden.
Serve with a salad or roasted vegetables.
Ingredients
Serves 8
1 whole chicken (or 8 chicken thighs)
50g butter
3 tablespoons Aromatic herbs
1 teaspoon paprika
1 teaspoon salt Herbamare® Spicy
Preparation time
Standing time 10 minutes
Cooking time 30-40 minutes
print