Indian Chicken with Cauliflower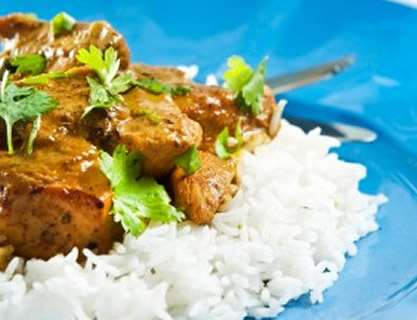 Preparation:
Divide the cauliflower into small pieces and peel and chop the shallots. Heat the olive oil in a pan and fry mustard seeds for 1 minute, add the shallots and garlic, sauté  for 1 minute then add the cauliflower for a further 3-4 minutes.
Brown the chicken in an oiled pan. Combine flour and yogurt then add this mixture and the chicken to the cauliflower.
Add spices, ginger, tomato sauce, water and soy sauce and stir. Season with Herbamare Spicy and pepper and simmer for 20 minutes.
Stir well. Serve garnished with coriander and almonds.
Tip: Plain rice will be an ideal accompaniment. For a vegetarian version, remove the chicken.
Ingredients
Serves 4
150g of natural yoghurt
600g cauliflower
500g chicken
2 shallots
3 tablespoons olive oil
1 teaspoon mustard seeds
1 clove garlic, minced
1 tablespoon curry powder
1 teaspoon turmeric powder
½ teaspoon finely chopped ginger
Herbamare® Spicy
Freshly ground pepper
250g of tomato sauce
30ml water
2 tablespoons soy sauce
1 teaspoon milk
1 tablespoon chopped fresh coriander
50g almonds
Preparation time
30 minutes + 20 minutes cooking time
print