Today's topic
Today on A.Vogel Talks Menopause, I take a look at four surprising emotional symptoms that you may experience going through the menopause.
Most of us are aware of the physical symptoms that we can get during the menopause. But many women are surprised to find just how big an impact the emotional symptoms can have on their lives.
And very often, I get women coming to me saying, "What's happening? I feel as if I'm going mad. I feel it's only happening to me. Is this okay? Is this usual? Is there anything wrong with me?"
Emotional menopause symptoms that may surprise you!

So, let's take a look at some of the emotional menopause symptoms that may surprise you and what you can do to help yourself feel better during menopause:
1. Feeling more introvert or less sociable
You may find that you can't be bothered to go out and meet friends. You might just think, "I just want to stay at home. I don't want to be around other people. I don't want to have to make an effort of dressing up or putting on a brave face. I just want to be left alone."
A lot of women find that they can't be bothered to be spending time with their family as well, so it's not just about not wanting to go out with a friend. This can be upsetting for both sides as they wonder what is wrong with them.
With this particular one, what's happening here is that low oestrogen can have quite a big impact on our mood.
It can make us feel a lot lower, a lot less enthusiastic, and a lot bluer. So, our mood can get quite low, but fatigue can also make you feel this way too. The hormonal changes in the menopause can put tremendous pressure on you physically. And if you've been working hard all day and you're really tired, of course, the last thing you're wanting to do is to have to dress up, or go out, or make an effort to socialise with other people.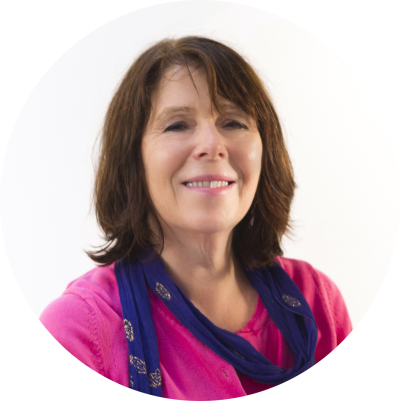 Are you Menopausal? Need help with your symptoms? Try our Menopause Symptom Checker.
Answer 3 question to find out if you could be menopausal and get personalised tips and advice straight to your inbox based on your results.
2. Crying all the time
Crying a lot, crying at the drop of a hat, or just crying and you have no idea why is very common, but something which takes a lot of women by surprise, including me!
This was one of my symptoms that came and went quite a few times. And, having experienced it myself, it is quite extraordinary. I found myself once, absolutely breaking down in floods of tears, and I felt so desolate and so sad, and unhappy.
It was almost as if I could feel the world was going to end. But the weird thing was that it came, and it went, and it stopped just as suddenly as it started. And afterwards, I was like, "What on Earth was that?"
So, I know from experience just how upsetting this one can be because when you're in it, you can't rationalise it. You are just feeling the whole depth of the emotion of sadness and fear.
It can also be very distressing if you're doing this at work. And a lot of women tell me that they become much more sensitive to what other people say and that can make them cry as well. They get more upset by being talked to in a way that maybe is not very nice to them.
A lot of women say that they can no longer read newspapers or watch the TV because everything in it is so negative and they end up crying all the time.
Again, this is being caused by low oestrogen. It makes us less able to cope with our emotions. It loosens our emotional control so we tend to feel things much more deeply. Also, we're less able to control particular emotions at that particular time.
3. Feeling less caring
This is quite a difficult one for a lot of women. For some, they can go from being the main carer in the family to becoming fed up being expected to do all the caring and all the looking after. This can cause resentment to build up.
And I have known women who will come to me and say, "I just want to walk out. I'm fed up of having to do everything for everybody, and I just want to not have anything to do. I want to put my feet up and I want to put me first." This is mainly due to a hormone called oxytocin.
Oxytocin is like your love hormone. For those of you who've had children, your body is flooded with oxytocin when you give birth so that you will bond with your baby. During menopause, as your oestrogen starts to fall, the production of oxytocin can decrease along with that, and you may find that you just don't want to be in that caring role anymore.
4. Worry, anxiety, and fear
Again, due to falling oestrogen, we are less able to maintain control over how we feel. We can't rationalise our fears, so these fears can multiply. They can get extremely out of hand.
I know some women who start to fear for their family. They just see the worst thing, the worst outcome in every single scenario that they worry about.
This can be very draining. It's also very upsetting because you're spending your whole day worrying about things that are probably not going to happen but you just haven't got the emotional control at this time to be able to justify and rationalise these fears. And it's another really horrible situation to be in.
What can you do to help yourself with all these emotional upsets?
There are lots of simple things which you can do to help yourself and to support your emotional well-being better during menopause, these include:
Helpful herbs
Herbs such as Hypericum can be used to relieve slight low mood, if you find that that's your main issue. It's a very nice one. Just be aware though that you can't take it with quite a lot of medications (including hormonal contraceptives) so you do need to double-check any contraindications.
My Top Tip: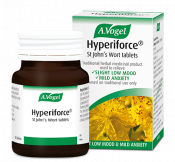 If you are feeling low or anxious and need some extra help, I'd suggest trying our Hyperiforce St John's Wort tablets, if suitable. Made from freshly harvested hypericum (St John's Wort), these can be used to relieve the symptoms of slightly low mood and mild anxiety, based on traditional use only.
"Has helped with my low moods."
You can look at our AvenaCalm for mild anxiety and stress. You can use flower essences. These are lovely for emotional issues. In this scenario, I would tend to recommend either Emotional Essence or Female Essence. Or sometimes, Confidence Essence as well could be a nice one, if you feel that you just can't control what you're doing and you want to able to build up your confidence that little bit more.
Remember the water
This is so important. Falling oestrogen can affect the way our body hydrates itself and dehydration will have a huge impact on your nervous system, making all of these emotional issues worse.
My Self-Care Tip: How water can help your menopause
Drinking enough water each day can make such a difference in how you feel during menopause. In this self-care tip, I explain how water can help during menopause and how much you should aim to drink each day:
Exercise regularly
I'm not talking about going mad and running marathons, but some kind of brisk exercise every day can really help your mood. It creates chemicals called endorphins and these lift our mood and makes us feel happier. They give us a much brighter outlook on life. So this can be another very helpful self-care daily tip to add into your routine.
Don't bottle things up!
Talk to your family and friends. It's amazing how many family and friends come to me and say, "My friend, I don't know what's happening to her. She's changed. She just seems completely different to how she was."
And also, if you've got children at home and your partner, this can have quite a big impact on your relationships with them. A lot of partners can feel that their loved one is turning into somebody that they don't know anymore, that they're being ignored, and that they're ending up on the blunt end of all these emotions.
So it's really important to talk to your family and your friends and just say, "Look, I'm going through the menopause. Something is going on with my emotions. I can't always control them but please bear with me." And having them on your side is going to give you extra support instead of things escalating into a little bit of unrest or arguments.
More menopausal mood boosters
There are lots more things you can do to boost your mood. Check out my blog '5 simple menopausal mood boosters' for even more tips and advice on how to help your mood during menopause.
I hope you found this one really helpful. These emotional states can be very distressing and I do understand how these can feel, having gone through most of them myself.
So, if any of you have gone through anything similar, if you want to share your experiences or if you have any other really good tips, then please let us know in the comment section below, we would love to read all about them.
Until next week, take care.